CASTERBRIDGE VIDEO offers a Wedding Service at a competitive and guaranteed price. We are unusual in giving this undertaking which provides security and peace of mind at a busy and expensive time! Our approach is traditional - we believe the video production should not intrude on the day, but be a discreet observer.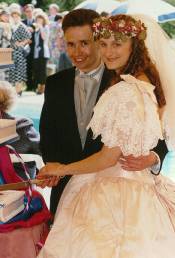 As a compliment to the more formal wedding photography Casterbridge Video will capture the entire service, and the atmosphere of the reception and speeches. We can handle nearly any occassion and venue, however individual!
As well as the formal marriage, in years to come you'll remember not just what guests wore, and how they looked, but the way they talked, moved, and laughed, capturing the atmosphere and lighter moments of the happy occasion as well.
So what do people say about Casterbridge Video?
"Many, many thanks, we were thrilled! I'm sure we'll need more copies."
Sue Kennedy. Dorset.
"The video was very well presented, and I want to thank you again for the time and effort which has obviously been put into it."
Paul Andrews. Dorset.
If you are considering having a video recording/production made professionally at your wedding please remember:
Book well in advance - our experience is that the summer weekends particularly can be booked more than six months ahead, and in some cases more than a year.
Ask to see a showreel of previous work or a tape of a previous wedding - no professional company should mind this. (Views are mixed on which is better - a showreel can be 'doctored' only to show highlights, and may not reflect the actual product. Casterbridge Video will show you actual wedding videos so you see what you'll be getting!)
Does the company know the church or registry office and the relevant officials. If not, will they visit the venue to look at it and establish how they'll position themselves in advance, and at thier expense?
Does the company have the necessary copyright clearance to record the music and service - it should have a licence from one of the relevant authorities such as the Church Copyright Licensing body?
What is the ethos of the company - can you be assured the video cameraperson will stay in the background on your most important day?
Check how much the video will cost you - will the company guarantee its price? If you'd like to know more about costs please click here.
How long will the programme take to produce - you'll want to relive your memories soon after the honeymoon, rather than waiting months!
Finally you should be prepared to offer a little assistance. In particular you'll be asked to provide names of those involved and the proposed timings at least four weeks in advance. If you've arranged any special 'extras' such as music (a trumpeter for a fanfare or a soloist for an anthem) it will be your responsibility to check they're happy to be recorded - this isn't the job of the cameraperson to negotiate on the day!
---
If you would like to find out more please contact Casterbridge Video by e-mail. Please replace the 'at' with an '@' symbol on the actual mail form.
Or you can telephone us on (01590) 623077, or write to

Casterbridge Video,
Grande Havre,
Partridge Road,
Brockenhurst,
Hampshire. SO42 7RZ.