A full site page index is here to help you
Recreate dishes as served to Cecil Rhodes
The dinner served for Cecil Rhodes consisted of nine courses - most with two choices. In 1996, to for a celebration dinner The National Portrait Gallery in London asked if we could recreate part of the menu not to commemorate Rhodes, but Dr David Livingstone, the English explorer of Africa in the 1850's - well before The Trocadero opened. We obliged by selecting three dishes off the menu, and using the authentic recipe books of the time came up with the following, which you are welcome to try for yourself. Because equipment, and kitchen techniques have changed, we've selected recipes which are easier to reproduce today!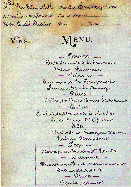 The Menu
A soup for starter (Petite Marmite à la Rhodesia)
Salmon for the main course (Saumon à la Tanganyika)
with the asparagus included in the vegetables (Asperges en Branches de Stanley)
and dessert of (Croûte aux fruits à la Livingstone)
If you are planning this for an unusual dinner, please feel free to print of a copy of the original menu here.
Petite Marmite à la Rhodesia
We've interpreted this as something spicy (exotic) but fortifying, as there is no basis whatsoever for ingredients! Hence, Escoffier's recipe for Mulligatawny Soup. Recipe is for 10 servings.
Cut a medium size chicken into eight pieces and cook with 1.75 litres White Bouillon, 60 g each of carrot and sliced onion, 25g of mushroom trimmings, and a bouquet of parsley and celery.
Separately cook 60g chopped onion in 50g butter until lightly coloured; sprinkle with 20g fecula and 10g curry powder, moisten with the cooking liquid from the chicken and allow to cook gently for 10 minutes. Pass through a fine strainer, place in a clean pan and simmer on the side of the stove for 15 minutes. Skim carefully and finish with 150ml cream. Place the trimmed pieces of the cooked chicken in a tureen and pass the soup through a fine strainer over them.
Serve separately in a dish 125g plain boiled rice.
Saumon à la Tanganyika
This is Francatelli's recipe for Salmon A La Victoria. I've removed the garnishes of truffles, lobster etc!
Mirepois
Make a mirepois sauce by taking two pounds of veal, one pound of fat bacon, and one pound of lean ham, four carrots, four onions, a pound of mushrooms, six shallots, a clove of garlic, some sprigs of thyme, two bay leaves, six cloves and a teaspoonful of peppercorns. Cut the ingredients into small square pieces and put them into a stew pan with half a pound of butter, and fry them brown; then add a bottle of claret and a quart of meat stock. Boil the mirepois for about an hour and a half by the stove-side, and strain it through a muslin (with considerable pressure to extract all the goodness), into a basin.
The Salmon
Braise a salmon in the mirepoix; when the fish is done, skin it, and place it on a low croustade on a dish. Then after divesting the mirepoix in which the fish has been done of all grease, put one third of it in a stew pan, and boil it down to a demi glaze, and work it in with some brown sauce; add a pat of anchovy butter, cayenne and lemon juice; mix the whole well together, and pour the sauce over the salmon. Send some of the sauce up to table in a boat.
Asperges en Branches de Stanley
Escoffier's Asperges à la Polonaise.

Cook the asparagus in the usual manner, tied in bundles in plenty of boiling salted water. Drain them and arrange in rows on a oval dish. Sprinkle the heads of each row with mixed chopped hard boiled egg yolks and parsley. When about to serve, coat the heads with brown butter in which 30g fine white bread crumbs per 125g butter have been fried a golden brown.
Croûte aux fruits à la Livingstone
Escoffier's Croûte aux Fruits.

Cut a dry stale savarin into slices half an inch thick, allowing two slices per person. Lay the slices on a tray, sprinkle with caster sugar and place in an oven to dry out and glaze at the same time.
Arrange them closely overlapping in a circle on a dish, alternately with thin slices of pineapple of exactly the same size. On this turban arrange poached quarters of apple and pear. Decorate with glacé cherries, diamonds of angelica, and crystallised segments of yellow and green Chinois oranges. Coat with Apricot sauce flavoured with Kirsch.
For the Apricot Sauce, pass some very ripe apricots or well strained stewed apricots through a fine sieve, thin out the purée with syrup. Bring to the boil skimming carefully, then remove from the stove when it coats the back of a spoon. Flavour to taste with Kirsch.

Our sources of information are; Francatelli's 'The Modern Cook, pub 1846' (he was chef to Queen Victoria, and I know a copy of this was in the Trocadero) and Escoffier's 'The Complete Guide to the Art of Modern Cookery'.

Click here to return to the Rhodes menu page, or you can Return to The Trocadero Restaurant description page.

Click here to return to

If you would like to contact us, please feel free to drop a line. (You'll need to substitute the word 'at' with a '@' symbol on the actual mail address.) :