Video is a powerful and engaging medium, which is why a consortium including the Institute of Building Control and West Dorset Council decided on the medium as the best tool to promote knowledge of disability issues amongst building professionals. The task was to convert a complex and weighty document which it was felt architects, building inspectors, and other specifiers were ignorant of, into an interesting video production.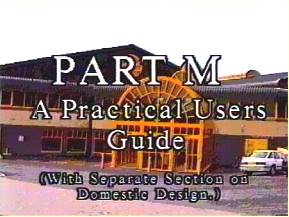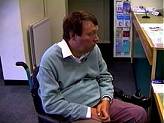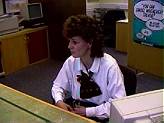 The document in question is 'Building Regulations - Part M'. It tells anyone designing or constructing a public building how to consider people with disability - for example if they need to provide automatic or wide doors, slopes and lifts instead of staircases, special signs, hearing loops, or other adaptions. No two buildings are ever the same, and the best way to demonstrate the issues is to look at real examples. The clients felt that professional people who were too busy to read the document should watch a programe on their television instead.
CASTERBRIDGE VIDEO was commissioned to make a programme reflecting the document. We filmed in locations across the south of England, finding good examples ranging from a theatre to supermarkets, and interviewing those with relevant experience. The presenter was David Rockett, himself disabled, who acted as technical adviser to the project. The resulting 40 minute programme was marketed to professionals.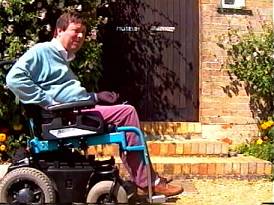 Production costs in total were about £8,000.00 and filming took a fortnight followed by three weeks of post-production, scripting and editing. The programme was marketed for £35.00, and has sold hundreds of copies across the United Kingdom, both to individual professionals and official and government organisations.
There has been a significant profit for West Dorset District Council who led the client consortium. The profit has been in part donated to a charitable organisation providing opportunities to people with disability. The result has been entirely positive and has led to further projects in this technically difficult field.
---
If you would like to find out more please contact Casterbridge Video by e-mail. Please replace the 'at' with an '@' symbol on the actual mail form.
Or you can telephone us on (01590) 623077, or write to

Casterbridge Video,
Grande Havre,
Partridge Road,
Brockenhurst,
Hampshire. SO42 7RZ.